Koh Samui Hotels & Resorts
Koh Samui Hotels recommended by Easy day Thailand Tours & Travel. In Koh Samui you find accommodation in all kind of budgets and standards. Below you find Samui hotels and resorts we can recommend for a headache free holiday in Koh Samui.
Chaweng Beach Hotels
Our selection of Koh Samui Hotels & Resorts located on Chaweng Beach, the most popular beach in Koh Samui.
Al's Laemson Resort is located in the northern part of Chaweng Beach. This part of Koh Samui is claimed to be one of the most beautiful shorelines on Koh Samui Island. Modern Bungalows all with Sea View.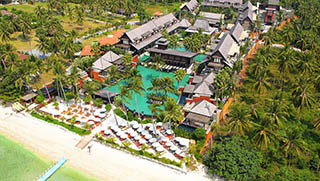 Mai Samui Beach Resort & Spa is a stylish hideaway resort situated on the tropical island of Koh Samui, one of Thailand's top tourist destinations. A luxury resort with great facilities, perfect for couples and families.
Chaba Samui Resort at Chaweng Beach is a good value for money resort in a central location. Located right on the beach, pool with pool bar, next to shopping and restaurants and attentive hotel staff. Great facilities for a perfect stay.
Lamai Beach Hotels
Our favorite Koh Samui Hotels & Resorts near Lamai Beach, one of the most popular Koh Samui Beaches.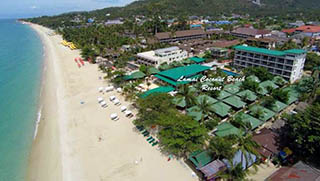 Lamai Coconut Beach Resort is located in a quiet location, right on the seafront of Lamai Beach. Rooms are very spacious and comfortable, with choice between building rooms and bungalows. The beachfront restaurant serves great food. 
The Thai House Beach Resort is located between coconut trees and a lush tropical garden located right on Lamai Beach. The hotel provides excellent facilities and top service. All built in charming Thai style architecture.
A Family Boutique Resort located high on a hill with stunning views of Lamai Beach. The Bungalows are set in a beautiful landscaped garden surrounded by exotic palms under the cooling shade of various tropical trees.
Thongtakian Beach Hotels
The best hotels by Easy Day Thailand on Thongtakian Beach, the quietest, secluded & romantic beach in Koh Samui.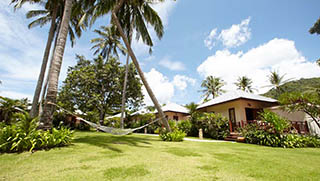 Promtsuk Buri Resort is located on Koh Samui's Thongtakian Beach, just a 10-minute drive away from the dining & entertainment at Chaweng Beach. The best & quietest beach in Koh Samui.
Thongtakian Resort offers privacy, tranquility, and relaxation. Located right on Thongtakian Beach (Silver Beach), between Chaweng and Lamai beach. Good value for money.
Koh Samui Hotels - Contact us
Not sure about where to stay in Koh Samui and need some suggestions? Like to have more information? Contact us and we will be happy to give you all the suggestions & info you need for a memorable holiday.
Bophut Beach Hotels
Our selected Koh Samui Hotels & Resorts in the area of Bophut Beach, the most Family Friendly beach in Koh Samui.
The Waterfront Resort is situated amongst the palm trees on the beautiful white sands of Bophut Beach in Koh Samui. One of the few hotels actually situated in Bophut Village.
Smile House Resort is located on Bophut Beach. The "Fisherman's Village", the most picturesque are in Koh Samui, is just a few steps away. Spacious villas with great value for money 
<ins class="bookingaff" data-aid="1358485" data-target_aid="1226096" data-prod="dfl2" data-width="320" data-height="429" data-lang="en-US" data-dest_id="-3249877" data-dest_type="city"><!-- [et_pb_line_break_holder] --> <!-- Anything inside will go away once widget is loaded. --><!-- [et_pb_line_break_holder] --> <a href="//www.booking.com?aid=1226096">Booking.com</a><!-- [et_pb_line_break_holder] --></ins><!-- [et_pb_line_break_holder] --><script type="text/javascript"><!-- [et_pb_line_break_holder] --> (function(d, sc, u) {<!-- [et_pb_line_break_holder] --> var s = d.createElement(sc), p = d.getElementsByTagName(sc)[0];<!-- [et_pb_line_break_holder] --> s.type = 'text/javascript';<!-- [et_pb_line_break_holder] --> s.async = true;<!-- [et_pb_line_break_holder] --> s.src = u + '?v=' + (+new Date());<!-- [et_pb_line_break_holder] --> p.parentNode.insertBefore(s,p);<!-- [et_pb_line_break_holder] --> })(document, 'script', '//aff.bstatic.com/static/affiliate_base/js/flexiproduct.js');<!-- [et_pb_line_break_holder] --></script>
<ins class="bookingaff" data-aid="1358483" data-target_aid="1226096" data-prod="nsb" data-width="100%" data-height="429" data-lang="en-US"><!-- [et_pb_line_break_holder] --> <!-- Anything inside will go away once widget is loaded. --><!-- [et_pb_line_break_holder] --> <a href="//www.booking.com?aid=1226096">Booking.com</a><!-- [et_pb_line_break_holder] --></ins><!-- [et_pb_line_break_holder] --><script type="text/javascript"><!-- [et_pb_line_break_holder] --> (function(d, sc, u) {<!-- [et_pb_line_break_holder] --> var s = d.createElement(sc), p = d.getElementsByTagName(sc)[0];<!-- [et_pb_line_break_holder] --> s.type = 'text/javascript';<!-- [et_pb_line_break_holder] --> s.async = true;<!-- [et_pb_line_break_holder] --> s.src = u + '?v=' + (+new Date());<!-- [et_pb_line_break_holder] --> p.parentNode.insertBefore(s,p);<!-- [et_pb_line_break_holder] --> })(document, 'script', '//aff.bstatic.com/static/affiliate_base/js/flexiproduct.js');<!-- [et_pb_line_break_holder] --></script>
Get in Touch with Easy Day Thailand
We are Here to Answer Your Questions Regarding any Thailand Tours or Activities? Drop us a a few lines and ask.