Hat Yai is Thailand's fourth largest city and is situated on the Southern Gulf Coast and is an extremely popular tourist destination hub for Malaysians and Singaporeans traveling.
Hat Yai International Airport (HDY) handles more than 800,000 passengers, 9,500 flights and 12,000 tons of cargo per annum. The airport is located in Southern Thailand and is the main international gateway into the country from its southern borders.
The Airport at Hat Yai is under the direct supervision of the Airports of Thailand Public company Limited (AOT). There are plans in the pipeline to expand the airport to accommodate up to 2.5 Million a year, and the airport will be expanded to 4.5 million capacities; which is scheduled for completion by 2018, and then developed further to 10 million by 2030.
Hat Yai International Airport located in Hat Yai serving both domestic and international flights. There are several major Airline operators regularly using Hat Yai as a hub, the airlines on service are:
Thai Lion Air

Nok Air

Air Asia

Thai Smile

Bangkok Airways

Thai Airways

Tiger Air
There are daily flights to and from Bangkok's Suvarnabhumi Airport (BKK) on Thai Airways. There are flights to Bangkok other main airport Don Mueang Airport (DMK) by Nok Air, Air Asia and Orient Thai. Air Aisa have also recently introduced a flight a couple of days a week to Pattaya Airport
Tiger Airways operates daily flights to Singapore.
Air Asia flies direct to Kuala Lumpur and to the north of the country Chiang Mai.
The airport at the moment is geared to handle up to 30 flights an hour 
Terminals
Hat Yai International Airport's has two main terminals and offers a high standard of service and use of its facilities to travelers to relax before a journey. Processing is relatively swift and efficient at the terminal centre and safety is, of course, paramount. 
Prayer Facilities
Like any decent airport around the world Hat Yai Airport International Airport serves to provide for all meditation and Religious needs during passenger transit. The Airport offers a prayer room and mosque facilities for Muslim ladies and gentlemen. 
Hat Yai International is also a very important exit and entry point into the country for Muslims on their annual pilgrimage to Mecca. 
 Food
There is a large food court which caters to most tastes available at Hat Yai International Airport, the idea is to give customers as much choice as possible with some very good dinning in the restaurants, cafes and fast-food outlets. 
Transport
There is a decent variety of options for transport at the Hat Yai Airport into Hat Yai itself, which is approximately about 9 Km away, all within an affordable price range. It is very easy to catch a bus into town, rent a car (the Car Rental counters are positioned in the domestic arrival hall near the Limousine counter) or jump in one of the Taxis which are available by the exit areas. 
Taxis in Hat Yai are very reasonable and are a popular choice for many. 
Shopping
There are several duty-free shops open at the airport at Hat Yai International Airport to buy. These shops offer all the usual duty frees for Alcohol, Tobacco, Perfumes and Cosmetics and all the other goodies one finds in international airports.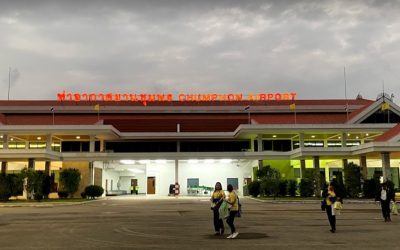 1999 saw the closure of Chumporn Airport and for nine years this airport in the south of the country stayed closed, and then in 2008, much to the surprise of the locals the airport was reopened. Chumporn airport now serves as the gateway to the sublime islands in the...
read more