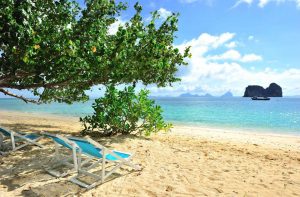 Koh Ngai (spoken HAI) is a tiny island totalling only 4 kilometres in length and only 2 kilometers wide. The island is rugged and covered by tropical rainforest; the shoreline is mainly craggy, although the east side has some gorgeous white sandy beaches, down on the southern part of the island there are several coconut plantations and even more beautiful yet smaller beaches.
The island is surrounded by the crystal clear azure warm waters of the Andaman Sea; the marine life is as good as it gets in the area, with blooming coral fields and colourful fish life just off shore.
Koh Ngai located 15 km away from the mainland is a small island and part of the Krabi Province, however it is best reached from Trang on the Southern end of the country. The island comes under the Koh Lanta National Park Trust and can also be reached from Lanta.
Koh Ngai has several neighbours, including Koh Muk and Koh Kradan and are all close to enough to each other for island hopping. Between these islands you will find some of the best snorkeling in the entire country which is all accessible by local long tail boats.
The island has some surprising residents too, so do not be alarmed if you bump into one of the monitor lizards, you may even spot the crab eating monkeys as they feast along the shoreline – I would not get too close though. There is some amazing scenery here and it is recommended for nature lovers especially those who love tropical birds.
The island host some fine resorts and though not ideal for backpackers, as these resorts can be a little too pricey for some, it is ideal for a romantic getaway or for families wanting a quiet beach holiday break. So if partying is more your thing, then Phi Phi Island might be a better option for you, Koh Ngai is much too laid back to host beach parties and revelers
There are no motorbikes or roads for that matter on the island, so getting around is done either by your own power on foot or you can rent a long tail boat to pick you and drop you off at your required destination along the coastline, the Long tail boats can be hired around your resort.
There are a couple of fantastic view points on the island and well worth the trek to the top. The views up here of the surrounding islands are wonderful, so do not forget the camera, it is recommended that when trekking anywhere in the area to take enough water, a sun hat and sun cream.
There is some fantastic diving in this part of the country too, in fact, not too far from here are two of the best dive sites in the entire country Hin Daeng and Hin Muang, these sites are simply world class and it is not unusual to see the Massive Manta Rays feeding here and even Whalesharks turn up at certain times of the year to feed too.
All in all Koh Ngai is a wonderful getaway island, so if a quiet life is what you dream of, come and see us down here in the south of Thailand -you will love it.
Contact Us Now for your visit at Koh Ngai